Fatalities caused by falls from elevation continue to be a leading cause of death for construction employees, accounting for 320 of the 1,008 construction fatalities recorded in 2018 (BLS data). Those deaths were preventable. The National Safety Stand-Down raises fall hazard awareness across the country in an effort to stop fall fatalities and injuries.
Addressing falls in construction is the reason why each year, the Occupational Safety and Health Administration (OSHA)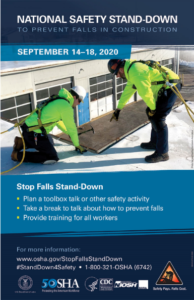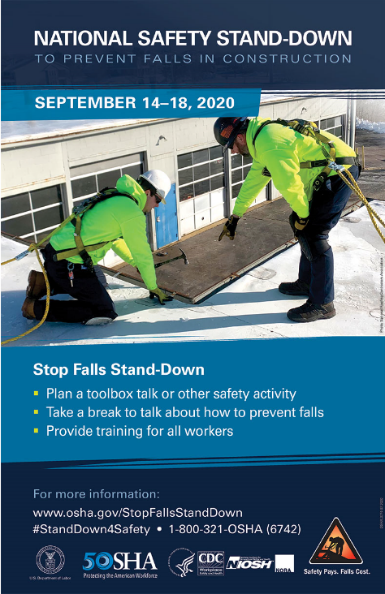 holds a National Safety Stand-Down to preve
nt Falls in the Construction industry. OSHA encourages employers to take a break to focus on safety concerns surrounding falls from elevation.  Stand-down events provide employers and workers the opportunity to talk about hazards, protective methods, and the company's safety and health programs, goals, and expectations.
Last year, thousands of worksites participated in the campaign and the Stand-Down event reached over a million workers. OSHA invites employers to dedicate themselves yet again to the safety of their most valuable resource: their workers.
OSHA's Stand-Down webpage offers information on conducting a successful event, and educational resources. Employers are encouraged to provide feedback after their events, and to obtain a personalized certificate of participation.
The National Safety Stand-Down is a joint effort between OSHA, the National Institute for Occupational Safety and Health, and CPWR – The Center for Construction Research and Training.
To learn how you can participate in the Stand-Down, visit www.osha.gov/StopFallsStandDown.