Excellence in EHS Management Award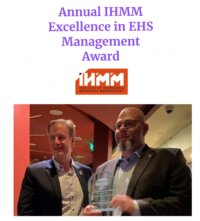 INTRODUCTION: The Excellence in EHS Management Award recognizes an individual who has excelled in their role as an EHS manager. The Institute for Hazardous Materials Management [IHMM] will present the award at the annual National Safety Council Expo.
The honoree will receive a commemorative plaque and be recognized in a press release and in IHMM member communications. Travel expenses to the award ceremony will be subsidized. If traveling from overseas IHMM will pay travel expenses from the nearest port of entry.
Nominations will be accepted from March through July of each year and the presentation to the winner will be in conjunction with the National Safety Council Congress and Expo [October 23-25 for 2023 in New Orleans]
NOMINEE QUALIFICATIONS:
Possesses a current ASHM, CSMP, or CSHM credential.
Currently works in an EHS field
Has demonstrated exemplary performance above and beyond the scope of assigned responsibilities in EHS Management such as:
Brought about significant positive change in safety in their organization
Demonstrated innovation and proactive leadership utilizing highly effective practices to inspire and lead others to practice safe work habits
Decreased costs and improved productivity through improvements to environmental safety and health policies, practices, and/or programs that result in a safer workplace while supporting lean and green initiatives.
Inspired others by building relationships/partnerships with others in the profession and/or community
SUBMISSION REQUIREMENTS:
A principal nominator and two (2) endorsements are required for each nomination submitted for consideration. Self-nominations are acceptable.
An individual may serve as a principal nominator for only one nominee but may endorse other nominees.
Nominations must include a supporting narrative that provides a detailed description of how the nominee's achievements qualify for excellence in EHS Management.
Narrative statements should not exceed two pages
The completed nomination with supporting documents must be e-mailed to

[email protected]

on or before July 15th.
The principal nominator sends the form via e-mail.
The principal nominator must copy each endorser on the e-mail submission.
Steps a. and b. serve as an electronic confirmation in lieu of written signatures.
DEADLINE: Submissions or supporting documents will NOT be accepted after July 31st . Email to: [email protected] beginning in March through July.
Excellence in EHS Management Award
NOMINATION FORM