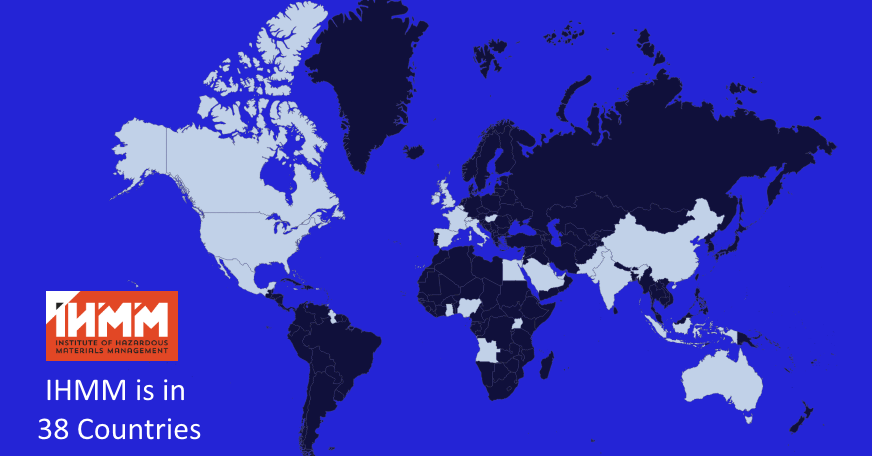 IHMM Certificants in all 50 of the United States and in 38 countries around the world.
Founded in 1984, the Institute of Hazardous Materials Management (IHMM), is a not-for-profit organization. IHMM has been protecting the environment and the public's health, safety, and security through the creation of credentials recognizing professionals who have demonstrated a high level of knowledge, expertise, and excellence in the management of hazardous materials, dangerous goods transportation, environmental protection, health, and safety.
Over 17,000 homeland security, environmental protection, engineering, health sciences, transportation, and public safety professionals have earned IHMM's accredited Certified Hazardous Materials Manager (CHMM®) credential. IHMM also administers the Certified Hazardous Materials Practitioner (CHMP®), the Certified Dangerous Goods Professional (CDGP®), and the Certified Dangerous Goods Trainer (CDGT®) credentials. IHMM started a pilot program with two universities in 2020 for a new credential, the Student Certified Hazardous Materials Manager (ST/CHMM). In 2019, IHMM acquired ISHM and now manages the Certified Health and Safety Manager [CSHM], Certified Safety Management Practitioner [CSMP], Associate Safety and Health Manager [ASHM], Certified School Safety Specialist [CSSS], and Certified School Safety Manager [CSSM] credentials.
Here, you may join a unique and exceptional global group of professionals who are in the top 1% of their communities of practice.